Veg Biryani.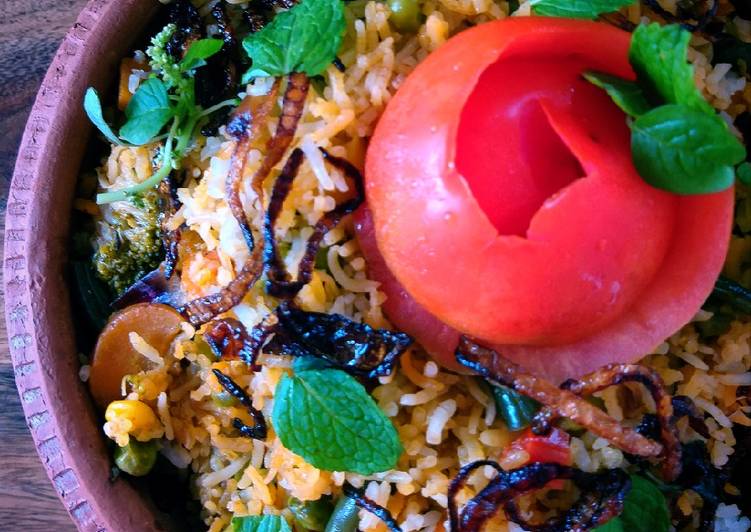 You can cook Veg Biryani using 31 ingredients and 4 steps. Here is how you cook it.
Ingredients of Veg Biryani
It's 1 of Veggies Broccoli - cut into florets.
You need 2 cubed of Carrots.
It's 1/2 cup of Green Peas.
It's 10 of French Beans chopped.
You need 1/2 of Red Capsicum.
It's 1/2 of chopped Yellow Capsicum chopped.
You need 1 of Tomato large chopped.
Prepare 1/4 cup of Corn.
You need 3 of Onion medium.
It's 2 of sliced Onion medium sliced, (fried till golden brown, drained on paper towels).
It's 1 tbsp of Green Chillies.
Prepare 2 of Green Chillies chopped.
Prepare 1 tsp of Ginger garlic paste.
It's of Spice Powders:.
Prepare 1 /2 tsp of Red Chilli Powder.
You need 1/4 tsp of Haldi / turmeric Powder.
Prepare 1 tbsp of Biryani Masala(homemade).
It's 1tsp of Kashmiri Red Chilli Powder.
Prepare 1/4 tsp of Kewra water.
Prepare 3 tbsp of Curd,whisked well.
Prepare 1.5 cups of Basmati Rice Wash, soak in water for 30 minutes,drained.
You need of Whole Spices:.
Prepare 3 of Cloves.
You need 1"stick of Cinnamon.
Prepare 3 of Green Cardamom.
You need 2 of Black Cardamom.
It's 1 tsp of Shahi Jeera.
Prepare 1 of Bayleaf.
Prepare 1 of Star Anise.
Prepare strands 12 of Saffron Milk Saffron.
It's 3 tbsp of Warm milk Soak in the saffron strands...set aside..
Veg Biryani step by step
For Rice - Tie in a muslin cloth...drop in a pan of hot water... Allow the water to come to a boil.Let the water get reduced to almost half..add rice. cook the rice on a high flame till 80%cooked.drain in a colander discard the spice potli.rinse rice gently under running water.. drain..set aside..
Gravy: In a heavy bottomed pan, heat ghee/oil Add shahi jeera, bayleaf, cloves, green cardamoms, star anise..saute till aromat and jeera starts crackling..add ginger garlic paste..fry till raw smell is gone..add onion..fry till golden in colour.. Add mixed veggies except tomatoes.....saute for 2 to 3 minutes..add powdered spices..fry for 3 to 4 minutes...
Add tomatoes, salt.fry till soft and mushy..add curd..cook for another 3 minutes..lower the flame.. Remove half of the mix...transfer to a bowl..spread half of the drained rice over the mix in the pan..layer evenly.. Spread mint leaves and half the fried onions over the rice layer.. Now spread balance veggie mix over the rice layer.. spread evenly.. Again spread balance rice over the veggie mix..spread evenly.. Top with pudina leaves, balance fried onions....
Make 3 holes in the top layer..pour saffron milk little by little into the holes..cover them up..sprinkle kewra water... Seal the pan with aluminum foil..place a tight lid over it..Cover and cook on a low flame till rice is done..Remove the lid..fluff the rice with a fork...switch off flame..Transfer to a serving bowl..Serve hot...