Healthy Oats Rava Uthappam. For the healthier versions, I usually make Oats uthappam, millet uttapam and wheat flour uttapam for breakfast. This rava uttapam is something I have grown up eating. My mom would make these whenever we preferred to have light dinner.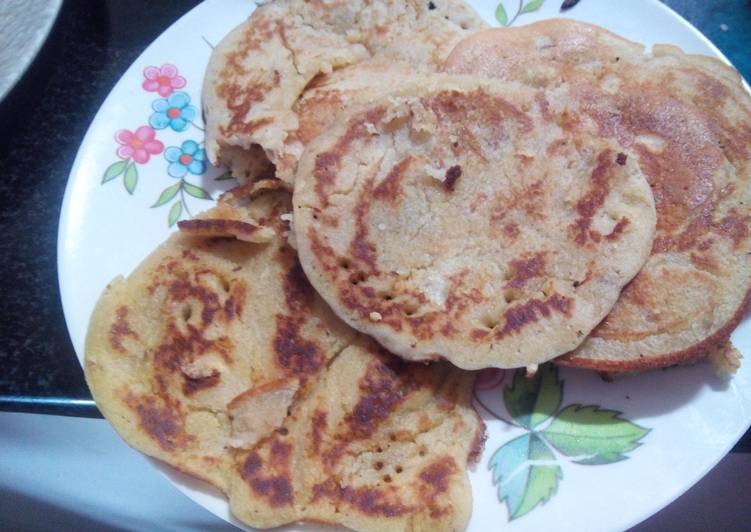 I tried oats uthappam (but i added chopped veggies to the batter itself) and it was good. Do you want a simple, healthy Onion Rava Uthappam. Here is a quick recipe to make tasty onion rava uthappam with other ingredients: Tomato, Green Chillies (according to spicy), Ginger, Coriander leaves, Salt, Slightly sour curd, Oil. You can cook Healthy Oats Rava Uthappam using 10 ingredients and 5 steps. Here is how you cook it.
Ingredients of Healthy Oats Rava Uthappam
You need 1 cup of oats.
It's 1/4 cup of rava semolina /.
It's 3 - 4 tablespoons of coconutgrated.
It's 1/4 teaspoon of baking soda.
It's 1/4 cup of nuts mixed.
You need 2 tablespoons of golden raisin.
Prepare 1 - 1/2 cups of milk.
Prepare to taste of salt.
It's 1/3 cup of sugar castor.
Prepare optional 1 number of egg.
Tips: You can add Capsicum, Carrot also it will increase the taste. Traditional Uthappam is made with the batter used for making dosa or idli (rice-urad dal batter). It's more like a thick dosa topped with onions, carrots, green chilies etc. Cooked on a tawa like we make pancake.
Healthy Oats Rava Uthappam step by step
In a bowl,take all ingredients and mix well..
Gradually add milk to makea loose batter pourable..
Add soda in end if you are making it then or else at time of cooking..
Fry till golden brown with a bit of butter or ghee..
Serve hot with maple syrup or caramel.
Easy to make, healthy and delicious oats-semolina uthappams are ready in no time. Oats Uthappam with Coriander Chutney ~ Healthy Indian Breakfast. Oats Uthappam topped with vegetables is another successful oats recipe from my kitchen. Its super quick to put together and those of you who find it boring to eat plain oats day in and day out, should give this winner of a recipe a try. Traditional Uthappam is made with the batter used for making dosa or idli (rice-urad dal batter).