Recipe: Perfect Pineapple Chicken Stir Fry
Pineapple Chicken Stir Fry. This pineapple chicken is a stir fry of chicken, pineapple and vegetables all tossed in a sweet and savory sauce. Serve this Chinese style pineapple chicken over rice for an easy dinner that everyone will love! In the mood for something tropical for dinner?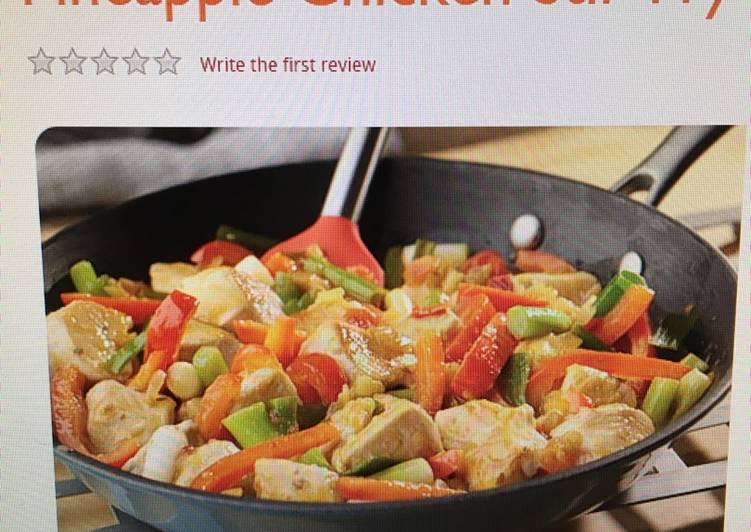 I use asian sauce ingredients to make this. It is fit for a king and will make you. Sweet and tangy pineapple chicken stir fry is the perfect quick and easy weeknight meal. You can have Pineapple Chicken Stir Fry using 7 ingredients and 3 steps. Here is how you cook it.
Ingredients of Pineapple Chicken Stir Fry
You need 1 1/4 pounds of chicken breasts cut into strips.
You need 1/2 teaspoon of salt.
Prepare 2 tablespoons of vegetable oil.
Prepare 1 of large red bell pepper cut into 1 inch pieces.
It's 6 of green onions cut into 1 inch pieces.
You need 1 tablespoon of minced fresh ginger root.
Prepare 1 cup of Pace Citrus Pineapple Salsa.
The pineapple adds a perfect little bit of tang, and the garlic and crushed red pepper make it garlicky and just a little spicy. Sweet red bell pepper and zippy scallions round out the dish. A Thai inspired stir fry dish with a wonderful savory, sweet and spicy flavor combination made with colorful bell peppers, fresh pineapple and chicken. This Pineapple Chicken Stir Fry recipe might look familiar because I modified it from my Thai Chicken Lettuce Wraps because I am so obsessed with that sweet and savory sauce and now this sauce.
Pineapple Chicken Stir Fry instructions
Season the chicken with the salt..
Heat 1 tablespoon oil in a 12 inch skillet over medium high heat. Add the pepper and green onions and stir fry for 3 minutes or until tender crisp. Add the ginger and stir fry for 30 seconds. Remove the vegetables from the skillet..
Heat the remaining oil in the skillet. Add the chicken and stir fry for 7 minutes or until cooked through. Return the vegetables to the skillet. Stir in the salsa and cook until the mixture is hot and bubbling..
This chicken and pineapple stir-fry is delicious with brown rice, which has a high-fiber bran coating and a nut-like flavor. Return the wok to the burner. Sprinkle with cilantro, almonds and onions. When the chicken has cooked through, add the drained pineapple and stir to combine. Give the sauce a final shake and add it to the skillet.