How to Cook Tasty Lemon Meringue Cupcakes
Lemon Meringue Cupcakes.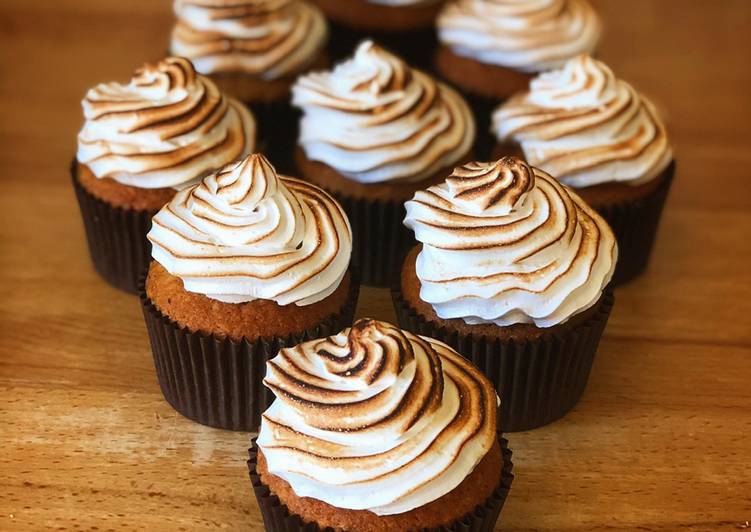 You can have Lemon Meringue Cupcakes using 20 ingredients and 8 steps. Here is how you achieve that.
Ingredients of Lemon Meringue Cupcakes
You need of For the cake.
It's 175 g of unsalted butter, softened.
Prepare 175 g of self-raising flour.
You need 175 g of caster sugar.
You need 3 of large eggs.
You need 1/2 tsp of baking powder.
It's 1 tbsp of lemon juice.
You need 1 tbsp of lemon zest.
It's 1-2 tbsp of milk (if mixture is too stiff).
You need of For the lemon curd filling.
Prepare 115 g of golden caster sugar.
It's 30 g of cold unsalted butter, cut into pieces.
You need 2 of large eggs, lightly beaten.
You need of Juice of 1 lemon.
You need of Freshly grated zest 1 lemon.
Prepare of For the lemon meringue frosting.
Prepare 170 g of caster sugar.
Prepare 3 of large egg whites (112g roughly).
It's 1 tbsp of lemon juice.
You need 1/4 tsp of cream of tartar.
Lemon Meringue Cupcakes instructions
First, make the lemon curd. In a heavy saucepan, heat the sugar, butter, eggs and lemon juice over a fairly low heat, whisking all the time, until the mixture is thick enough to hold marks of the whisk. This will take around 12-15 minutes. Once thickened, immediately pour the curd through a sieve into a bowl. Stir in the zest and set aside to cool..
Preheat your oven to 180degrees fan and prepare a muffin tray with muffin cases..
Make the cakes: using a beater in an electric mixer, cream together the butter and sugar for 4-5 minutes until pale and fluffy. Beat in one egg at a time, for about 2 minutes per egg. Add the lemon juice and zest before finally adding the flour and baking powder and fold in gently until fully incorporated. Add some milk if the mixture seems a little stiff..
Divide this mixture evenly between the cake cases and bake in the oven for around 15 - 18 minutes, or until lightly golden and a skewer comes out clean when put into the cakes. Set aside to cool completely..
While your cakes are cooling, get started on your meringue frosting. Heat all the frosting ingredients in a metal mixing bowl (ideally one that attaches to your free-standing electric mixer) over a Bain marie. Whisk continuously until the sugar is dissolved and the mixture has reached a temperature of around 70-75 degrees C..
Remove from the heat, put back to your free standing mixture and whisk on high for roughly 8-10 minutes until your meringue has doubled, even tripled in size, is glossy and stiff..
When the cupcakes are cooled, core out the middle of each cupcake. You can do this using an Apple corer or a large piping nozzle. Place a dollop of lemon curd into the centre of each cupcake to the top..
Pipe your meringue frosting onto each cupcake and blast the tops with a chefs blow torch, or place under a grill on a high setting to toast the meringue. Keep an eye on them! They will colour very quickly. Enjoy!.