Recipe: Tasty Rajasthani Dal Bati
Rajasthani Dal Bati.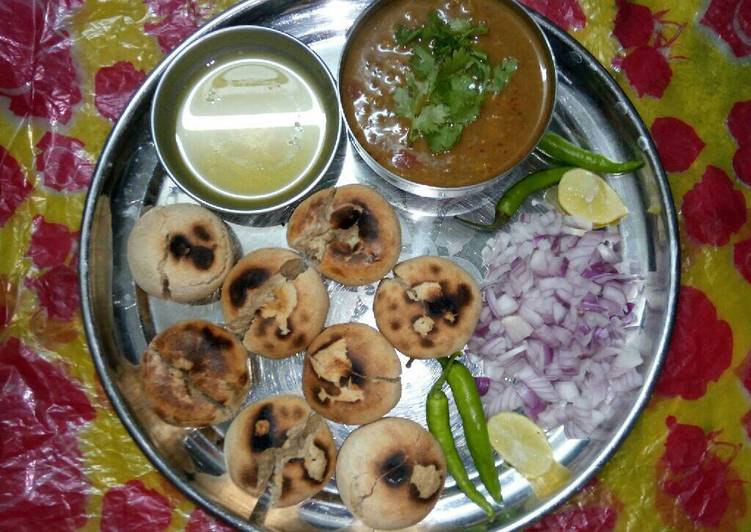 You can cook Rajasthani Dal Bati using 29 ingredients and 23 steps. Here is how you cook that.
Ingredients of Rajasthani Dal Bati
Prepare of For Dal:.
It's of sabut moong dal 1/2 cup (soaked in water for 30 minutes).
You need of salt 1 teaspoon or to taste.
It's 1/2 teaspoon of turmeric powder.
It's 1/4 teaspoon of red chilli powder.
Prepare 1/2 teaspoon of garam masala.
You need of green chilli slitted 2 or to taste.
Prepare 1/2 teaspoon of ginger paste.
Prepare 1 tablespoon of ghee.
It's 3 cup of water.
You need of For Dal tempering:.
It's 2 tablespoons of ghee.
It's of onion 1 chopped.
Prepare of garlic 1 tablespoon chopped.
Prepare of ginger 1 tablespoon chopped.
You need of tomatoes 2 chopped.
Prepare of coriander for garnishing.
Prepare of For Bati:.
Prepare 1 cup of whole wheat flour.
You need 5 tablespoons of semolina.
You need 2 tablespoons of ghee.
Prepare 1 teaspoon of salt.
Prepare 1/2 teaspoon of carrom seeds.
You need 1/2 cup of milk.
Prepare of water for kneading dough if needed.
It's of ghee 1/2 cup for dipping battis.
Prepare 1 of chopped onion.
You need of lemon wedges.
It's 4 of green chillies.
Rajasthani Dal Bati instructions
Put soaked moong dal into pressure cooker and add water..
Add salt to this..
Add turmeric powder..
Add ghee to dal..
Add green chillies and ginger..
Add red chilli powder..
Close the pressure cooker and cook till5 whistles..
After 5 whistles open lid and cook on low flame for 10 mintues. Add water if needed..
Now we temper the dal. Put ghee in a pan add garlic, ginger, saute for 2 minutes and add chopped onion, cook till golden. Add chopped tomatoes and cook till ghee separates from it..
Add garam masala to it and pour it over dal. Your dal is ready to serve. Garnish with coriander leaves..
For making battis mix flour and semolina..
Add ghee to it..
Add salt to it..
Add carrom seeds and milk..
Make a fine smooth dough.add water if needed..
Set aside for 10 mintues..
After 10 mintues knead the dough properly so that dough can become smooth..
Now divide this dough into small pieces. And make small balls..
Put these balls into preheated tandoor..
Cook for 10 mintues. Check after 5 minute and turn the side..
After this break the battis and dip into the melted ghee..
Now your battis are also ready to serve..
Your dal bati is ready. Serve it with chopped onion, lemon wedges, and green chilli..