How to Prepare Tasty 🌱 Vegan Pulled Aubergine & Chickpea Coconut Curry 🍛
🌱 Vegan Pulled Aubergine & Chickpea Coconut Curry 🍛. How to make the Vegan Eggplant Pulled Pork Burger. Scroll down to the bottom of the post for the full recipe. BBQ Pulled Eggplant, via Eat the Vegan Rainbow.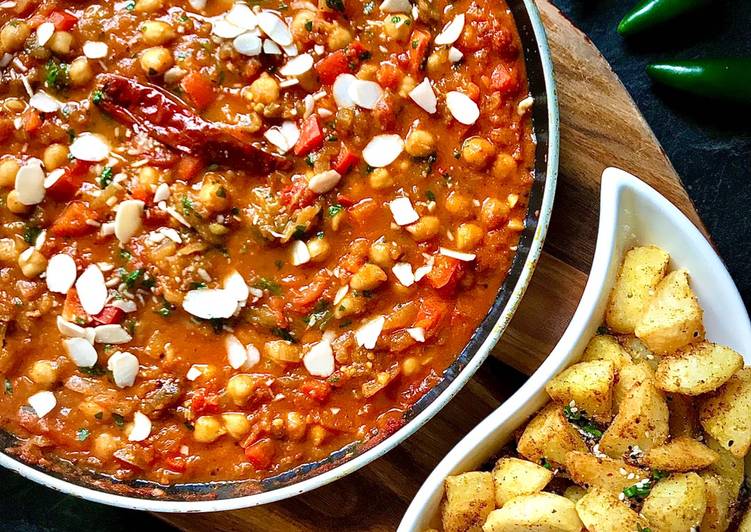 Perhaps you can start with the recipe below, which is, technically, not a BBQ; but it successfully recreates what using smoke and cooking low. Take the aubergines out the oven and leave to cool down. Slice open the aubergine and scoop out the insides into a separate bowl and set aside for later. You can cook 🌱 Vegan Pulled Aubergine & Chickpea Coconut Curry 🍛 using 16 ingredients and 7 steps. Here is how you cook that.
Ingredients of 🌱 Vegan Pulled Aubergine & Chickpea Coconut Curry 🍛
You need 1.5 tablespoon of sunflower oil.
You need 1 of large whole aubergine.
Prepare 1 of medium onion - finely diced.
Prepare 2 of large garlic cloves - minced.
It's 1 of red pepper - very small diced.
You need Tin of chickpeas - drained.
Prepare 50 g of creamed coconut block (chopped into small pieces.).
It's 1.5 teaspoons of garam masala.
It's 1 teaspoon of turmeric.
You need 0.5 teaspoon of madras curry powder.
You need 0.5 teaspoon of mild chilli powder.
Prepare 1.5 teaspoons of ground coriander powder.
Prepare 0.5 teaspoon of sea salt.
You need Handful of chopped fresh coriander.
Prepare Handful of flaked almonds. (Optional for garnish).
You need 1 (400 g) of tin chopped tomatoes (+ the tin and a half full of water).
In a pan, add olive oil, onion and garlic. Pile the eggplant on the buns and top with coleslaw, if desired. Pulled Aubergine This is a great recipe from Vegan Food & Living magazine. I changed the recipe slightly, as cumin or mustard seeds are off the menu due to allergies and I had no garlic or onion powder, but even so it was awesome.
🌱 Vegan Pulled Aubergine & Chickpea Coconut Curry 🍛 instructions
Heat the oven to 200deg C place the whole aubergine on a roasting tray and coat with 0.5 tablespoon of the sunflower oil. Roast in the oven for 45 minutes until soft and set aside..
Gently fry the onion and garlic on a low heat for 10 minutes til soft and translucent. (add a little water to simmer and stop them burning).
Turn the hob to a medium heat. Add in the diced pepper and cook for a further 5 minutes. Tip in the spices and fry for a minute or two until fragrant. (Don't burn them).
Tip in the tinned tomatoes and simmer for 10 minutes. Add the creamed coconut to the middle of the pan, melt it down & stir in. Pour in 1.5 tins (from the tomatoes) full of water..
Heat til bubbling then add the chickpeas, cover and leave to simmer for 15 minutes..
While the curry is simmering, split the aubergine in half and scoop out the flesh. Shred it with two forks and add into the curry for 2 minutes at the end..
Now stir in the chopped coriander & sprinkle over the almonds. I served with fluffy mushroom rice, flatbreads and crispy, roasted, spiced potatoes. (Recipe for these will be in a separate post).
Transfer to a plate and leave to cool. Peel the skin from the cooled aubergines or scoop out the flesh using a spoon. It should have crisped on the outside, and the flesh will be brown and soft. Add the aubergine to the curry and chopped coriander and stir. Serve with extra coriander and a drizzle of vegan cream and enjoy as a side or main.