Recipe: Perfect Fluffy Banana Bread
Fluffy Banana Bread. This Vegan Banana Bread is fluffy, gluten-free, and absolutely delicious. Note: This post has been updated with new photos and. Come along and hang out with me as I show you how to make this Fluffy Banana Bread that's Vegan, Gluten-Free, and so dang easy to make!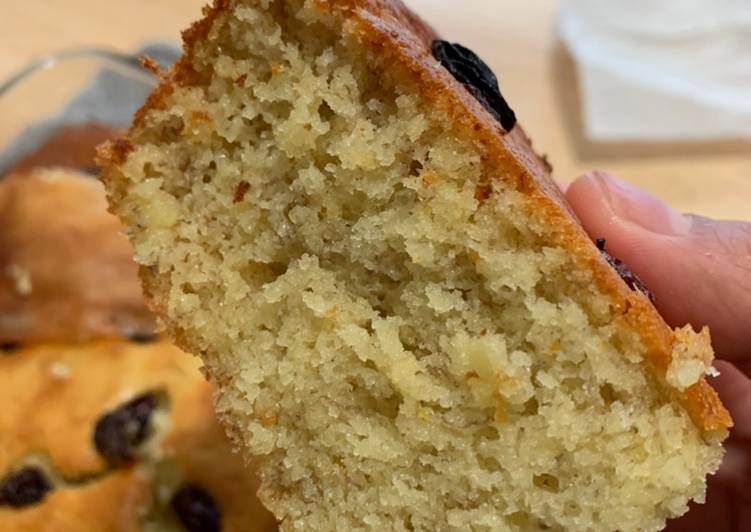 Ever try a banana bread recipe that turns out more like a brick than a loaf of bread? Try this recipe for a fluffy, tasty treat that the whole family will enjoy! If you have overripe bananas lying around, don't throw them in the trash. You can have Fluffy Banana Bread using 8 ingredients and 6 steps. Here is how you achieve it.
Ingredients of Fluffy Banana Bread
Prepare 1 cup of all-purpose flour.
You need 3 of eggs.
Prepare 1/3 cup of sugar.
Prepare 2 of mashed bananas.
Prepare 1 tsp of baking powder.
It's 1/2 cup of melted butter.
It's of 1 pinch salt.
It's of Raisins (optional).
Make this easy banana bread instead! I make this about twice a month when the bananas don't get eaten up and start to brown. This recipe is quick and easy and I always get the most fluffiest and sweeter than any other recipe, banana. And bananas are sliced instead of mashed in this recipe, giving a concentrated banana taste in every bite.
Fluffy Banana Bread instructions
Add eggs and sugar, mix on high speed until foamy..
Add mashed bananas into the egg foam and mix on high speed for 1 minute..
Add flour, baking powder and salt. Mix on low speed until incorporated..
Add melted butter in the mixture and mix with a spatula until even..
Coat a baking pan with oil and pour the batter into it..
Sprinkle raisins on top of the batter and bake at 350 degrees F for about 35 minutes..
This is the best banana bread ever, and i have tried many looking for the best. Banana bread is the obvious use for ultra ripe bananas, but sometimes you don't feel like eating yet another loaf (or baking one, for that matter). That's when these easy banana pancakes come in handy. This luscious and aromatic Banana Bread with a fully ripe banana is best served when still warm. Baking makes the banana more aromatic! [recipe].