Recipe: Delicious Lemon Bars with Olive Oil & Sea Salt
Lemon Bars with Olive Oil & Sea Salt. Traditional lemon bars balance the tangy sweetness of lemon curd with a rich shortbread crust. This recipe adds extra notes of flavor to the mix: the compelling bitterness of good olive oil and a touch of sea salt sprinkled on top. They lend a mild savory character to this childhood favorite, making it a little.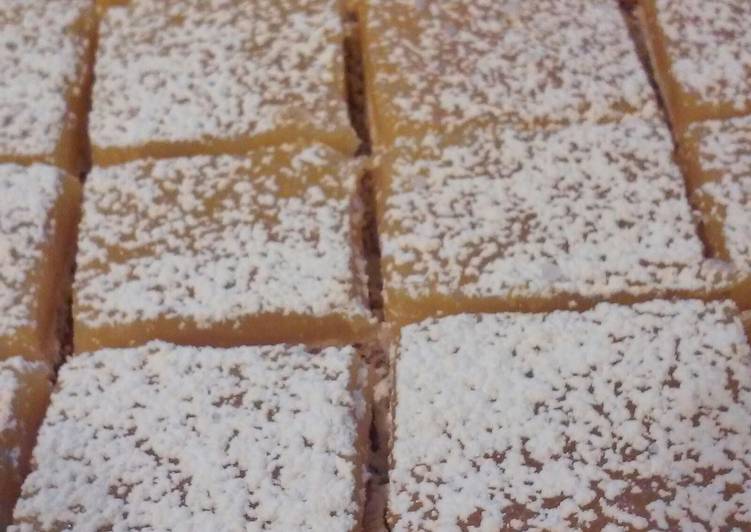 This fabulous and unusual, salted olive oil lemon bar recipe is truly delicious, particularly when made with Meyer lemons. A good lemon dessert has to have a clean fresh lemony flavor and not be overly sweet. So when my friend Sophia sent me this recipe with the comment "These lemon bars. You can cook Lemon Bars with Olive Oil & Sea Salt using 17 ingredients and 13 steps. Here is how you achieve that.
Ingredients of Lemon Bars with Olive Oil & Sea Salt
Prepare of Shortbread Crust.
You need 1 1/4 cup of all-purpose flour.
You need 1/4 cup of granulated sugar.
It's 3 tbsp of powdered sugar.
Prepare 1 tsp of lemon zest (finely grated).
You need 1/4 tsp of fine sea salt.
You need 10 tbsp of unsalted butter.
You need of Lemon Curd.
It's 6 each of lemon.
Prepare 1 1/2 cup of granulated sugar.
It's 2 each of eggs.
Prepare 3 each of egg yolks.
You need 1 1/2 tsp of cornstarch.
You need 4 tbsp of unsalted butter (cold, cut in cubes).
Prepare 1/4 cup of olive oil, extra virgin(good quality).
You need 1 of powdered sugar (for finishing topping).
It's 1 of sea salt (flaky-for sprinkling).
Savory, tart, bitter, and sweet from The New York Times: Melissa Clark demonstrates how to make lemon bars with a sophisticated twist by adding olive oil. The lemon curd filling is extra thick and creamy and sits on an irresistible butter shortbread crust. Get the best deal for Olive Oil Lemon Bar Soaps from the largest online selection at eBay.com. Traditional lemon bars balance the tangy sweetness of lemon curd with a rich shortbread crust.
Lemon Bars with Olive Oil & Sea Salt instructions
Heat oven to 325°F & line a 9X9 baking pan with enough parchment paper to hang over two sides of pan (to be used as handles later to lift out of pan).
To make shortbread: pulse together flour, granulated sugar, powdered sugar, lemon zest, and salt in food processor..
Add butter & pulse to cut the butter into the flour mixture until a crumbly dough forms.
Press dough into prepared pan & bake until shortbread is pale golden brown. About 30-35 minutes..
While shortbread baking prepare the curd..
Grate 1/2 tablespoon lemon zest and set aside. Squeeze lemons to yield 3/4 cup lemon juice..
In a small saucepan: whisk together lemon juice, sugar, eggs & yolks, cornstarch, and fine sea salt over medium heat until boiling & thickened (2-5 minutes) make sure mixture comes to boil or cornstarch won't activate..
Remove from heat & strain into a bowl..
Whisk in butter, olive oil, and lemon zest..
When shortbread is done: take it out of oven, carefully pour lemon curd onto shortbread base and return to oven..
Bake until topping is set (10-15 minutes more) . Remove from oven and allow to cool to room temp then refrigerate until completely cool before cutting..
Sprinkle powdered sugar and sprinkle flaky sea salt over cooled bars prior to serving..
Enjoy!!.
This Melissa Clark recipe adds extra depth with olive oil and sea salt. Melissa Clark makes lemon bars sprinkled with flaky sea salt and confectioner's sugar. Now excuse me while I dive into one of these magical bars. Transfer to a medium mixing bowl and add maple syrup and melted coconut oil, starting with. Standard lemons make for classic lemon bars, but if you happen to have an excess of Meyer lemons, limes, or Seville oranges, you can substitute them one for I followed the instructions exactly and had big success — rich bars with a crisp, buttery crust.